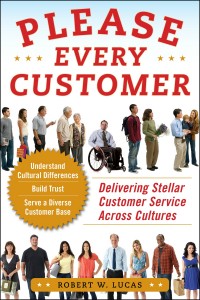 Perceptions of time can impact customer relationships. An understanding of the concept and value of time differences between individuals is crucial for any employee since they are likely to interact with people from other cultures periodically.
By recognizing that customers from diverse backgrounds may not view punctuality or tardiness from the same perspective as you, the potential for a more positive relationship between you and them is possible.  For example, if you are looking forward to a vacation or other special event time may often seem to drag on. On the other hand, if you are in a hurry or are late for a customer meeting, time might seem to fly. These feeling may not be true for someone else. In the latter situation, you may feel greater pressure or feel stressed while someone from a culture where time is viewed as less important (e.g. Hispanic or Middle Eastern) may not have the same reaction.
Often the situation or the people involved in a given interpersonal scenario will dictate how someone perceives time. For example, many college students in the United States go by an unwritten standard that if their professor is late, they should wait a given period of time before leaving or assuming that a class is cancelled. If the teacher has full professorial (tenured) status, they might wait fifteen minutes before leaving. If the instructor is an adjunct or associate professor (non-tenured), they might only wait ten minutes. In the workplace, you are wise to wait for at least fifteen to thirty minutes or so and then verify the cancellation of a meeting if you are scheduled to meet with a customer or a member of senior management.
The manner in which someone uses or addresses time often differs for various reasons. For example, some individuals grew up in a household or cultural environment where one or both of their parents or other caregivers had a lackadaisical attitude toward time and were often late. If this was the case in your home environment, the chances are that you may not be as punctual as someone who learned early on that being on time for meeting commitments was an important personal value. Depending on the situation and other people involved, this may or may not be an issue. In some cultures being late by as much as an hour is acceptable. The higher a person's status, the longer you might have to wait for them. In the United States and other monochronic societies, five to ten minutes is an acceptable wait time if someone is late, unless they are high ranking in an organization, government or military. The logic in such cases is that because of the demands on their time and the level of decisions in which they are typically involved, senior level people are more likely to be detained or called into unscheduled meetings or telephone calls which might cause tardiness.
The bottom line in customer service is that you should always conduct yourself in a professional manner. This includes punctuality, following through on commitments and working to show your customers that you value and respect them. Effective time management should be part of your persona. Educate yourself on the traditions and values of customers from around the world and act accordingly when dealing with people from different cultures. This can lead to enhanced customer retention and satisfaction.
The information in this article is derived from Please Every Customer: Delivering Stellar Customer Service Across Cultures. For additional information on interacting with customers from various backgrounds and hundreds of ideas on ways to enhance your customer service relationships, get a copy of the book.