Successfully Addressing Diversity as a Service Provider
As the world grows smaller economically and otherwise through world trade, international travel, outsourcing and off shoring of jobs, worldwide Internet access, international partnerships between organizations and technologically transmitted information exchange, the likelihood that you will have contact as a customer service provider with people from other cultures, or who are different from you in other ways, increases significantly. This likelihood also carries over into your personal life.
Diversity is encountered everywhere over the telephone and Internet, in supermarkets, religious organizations, and on public transportation and virtually anywhere that you come into contact with others. It is an important aspect of everyone's life. Although it presents challenges in making us think of differences and similarities, it also enriches our lives. Each encounter we have with another person gives us an opportunity to expand our knowledge of others and build customer relationships while growing personally.
One significant impact that diversity has on customer service is that people from varied backgrounds and cultures bring with them expectations based on personal preferences and the "norm" of their country or group. Whether this diversity pertains to cultural or ethnic differences, beliefs, values, religion, age, gender, ability levels or other factors a potential breakdown in customer satisfaction can occur if people get other than what they want or expect.
In order to provide excellent customer service rather than good customer service, you will need to raise your personal awareness about others and focus on addressing the needs of a diverse customer base.
Part of creating a positive diverse customer-centric business environment is to train each service provider on the nuances of dealing with people who have backgrounds that are different from their own. Additionally, this effort involves each employee taking ownership for enhancing his or her knowledge and skills related to working with a diverse customer base.
To better prepare for the inevitable opportunities, you will have in serving others who are different from you, ask yourself the following questions. After thinking about them, set out to do some research in areas where you feel deficient.
How do you define diversity?

What do you already know about diverse cultures around the world?
In what ways do your cultural beliefs and values differ from those of cultures with which you have contact as a service provider?
In what ways are your cultural beliefs and values similar to those of cultures with which you have contact as a service provider?
How do the beliefs and expectations of people from a gender other than your own impact your ability to serve them effectively?
How do the values of other generations differ from your own?
What accommodations might be necessary for customers who have special needs?
What is your personal interest in learning about other cultures or diverse groups?
What training or research have you done on diversity and how has that impacted your views or perspectives towards others who may be different from you?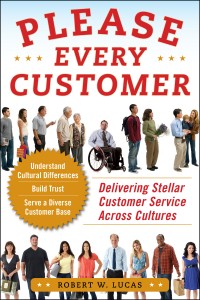 For ideas and strategies on providing quality customer service to a diverse population, check out, Please Every Customer: Delivering Stellar Customer Service Across Cultures.
About Robert W. Lucas
Bob Lucas has been a trainer, presenter, customer service expert, and adult educator for over four decades. He has written hundreds of articles on training, writing, self-publishing, and workplace learning skills and issues. He is also an award-winning author who has written thirty-seven books on topics such as, writing, relationships, customer service, brain-based learning, and creative training strategies, interpersonal communication, diversity, and supervisory skills. Additionally, he has contributed articles, chapters, and activities to eighteen compilation books. Bob retired from the U.S. Marine Corps in 1991 after twenty-two years of active and reserve service.
Make Money Writing Books: Proven Profit Making Strategies for Authors by Robert W. Lucas at Amazon.com.
The key to successfully making money as an author and/or self-publisher is to brand yourself and your company and to make yourself and your book(s) a household name. Part of this is face-to-face interaction with people at trade shows, library events, book readings, book store signings, blogging or guest blogging on a topic related to their book(s). Another strategy involves writing articles and other materials that show up online and are found when people search for a given topic related to a topic about which the author has written.
If you need help building an author platform, branding yourself and your book(s) or generating recognition for what you do, Make Money Writing Books will help. Bob's popular book addresses a multitude of ideas and strategies that you can use to help sell more books and create residual and passive income streams. The tips outlined in the book are focused to help authors but apply to virtually any professional trying to increase personal and product recognition and visibility.