Inspirational Customer Relationships Quote – Nelson Mandela
When dealing with people of all types, it is important for customer service representatives and others in the organization to truly respect and appreciate those with whom they come into contact. This is because each person is different, yet similar and has needs, wants, and expectations specific to themselves and their situation. If you fail to work with your customers and try to give them the best possible service, you, your customer and your organization will fail in efforts to have a successful service outcome.
A quote by the popular former President of South Africa, Nelson Mandela, sums up this premise: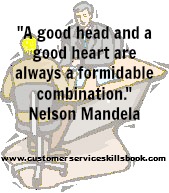 Here are a few more good quotes from Nelson Mandela…
"Education is the most powerful weapon which you can use to change the world."
"When a man is denied the right to live the life he believes in, he has no choice but to become an outlaw."
"I learned that courage was not the absence of fear, but the triumph over it. The brave man is not he who does not feel afraid, but he who conquers that fear."
"A good head and good heart are always a formidable combination. But when you add to that a literate tongue or pen, then you have something very special." ― Nelson Mandela
"It always seems impossible until it's done."
"No one is born hating another person because of the color of his skin, or his background, or his religion. People must learn to hate, and if they can learn to hate, they can be taught to love, for love comes more naturally to the human heart than its opposite."
"Resentment is like drinking poison and then hoping it will kill your enemies."― Nelson Mandela
"For to be free is not merely to cast off one's chains, but to live in a way that respects and enhances the freedom of others."
"There is nothing like returning to a place that remains unchanged to find the ways in which you yourself have altered."
"Do not judge me by my successes, judge me by how many times I fell down and got back up again."
"I have walked that long road to freedom. I have tried not to falter; I have made missteps along the way. But I have discovered the secret that after climbing a great hill, one only finds that there are many more hills to climb. I have taken a moment here to rest, to steal a view of the glorious vista that surrounds me, to look back on the distance I have come. But I can only rest for a moment, for with freedom come responsibilities, and I dare not linger, for my long walk is not ended."
"Lead from the back — and let others believe they are in front." ― Nelson Mandela
"I am not a saint, unless you think of a saint as a sinner who keeps on trying."
"As I walked out the door toward the gate that would lead to my freedom, I knew if I didn't leave my bitterness and hatred behind, I'd still be in prison."
"There is no passion to be found playing small – in settling for a life that is less than the one you are capable of living." ― Nelson Mandela
About Robert C. Lucas
Bob Lucas has been a trainer, presenter, customer service expert, and adult educator for over four decades. He has written hundreds of articles on training, writing, self-publishing, and workplace learning skills and issues. He is also an award-winning author who has written thirty-seven books on topics such as, writing, relationships, customer service, brain-based learning, and creative training strategies, interpersonal communication, diversity, and supervisory skills. Additionally, he has contributed articles, chapters, and activities to eighteen compilation books. Bob retired from the U.S. Marine Corps in 1991 after twenty-two years of active and reserve service.
Make Money Writing Books: Proven Profit Making Strategies for Authors by Robert W. Lucas at Amazon.com.
The key to successfully making money as an author and/or self-publisher is to brand yourself and your company and to make yourself and your book(s) a household name. Part of this is face-to-face interaction with people at trade shows, library events, book readings, book store signings, blogging or guest blogging on a topic related to their book(s). Another strategy involves writing articles and other materials that show up online and are found when people search for a given topic related to a topic about which the author has written.
If you need help building an author platform, branding yourself and your book(s) or generating recognition for what you do, Make Money Writing Books will help. Bob's popular book addresses a multitude of ideas and strategies that you can use to help sell more books and create residual and passive income streams. The tips outlined in the book are focused to help authors but apply to virtually any professional trying to increase personal and product recognition and visibility.
In my book Customer Service Skills for Success, I define customer service as "the ability of knowledgeable, capable, and enthusiastic employees to deliver products and services to their internal and external customers in a manner that satisfies identified and unidentified needs and ultimately results in positive word-of-mouth publicity and return business."