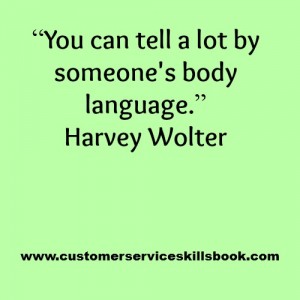 Quote On Communicating Through Body Language – Harvey Wolter
Learning to read body language (nonverbal communication) is a crucial customer service skill since the majority of the sender's meaning in a conversation comes from the non-verbal cues that they send along with their verbal communication.
Famous Harvey Wolter Quotes
"You can tell a lot by someone's body language."
"It really gets your blood going in the morning."
"I never take anything personally. If they don't respond, I figure it's because of what's going on in their own life; they're preoccupied. I just try to help them with what I can."
"You get to know them, and all about their family, their aches and pains. Sometimes you laugh with them, sometimes you cry with them."
For additional thought and strategies on using and reading nonverbal communication when dealing with customers, get copies of Please Every Customer: Delivering Stellar Customer Service Across Cultures and Customer Service Skills for Success.
About Robert W. Lucas
Bob Lucas has been a trainer, presenter, customer service expert, and adult educator for over four decades. He has written hundreds of articles on training, writing, self-publishing, and workplace learning skills and issues. He is also an award-winning author who has written thirty-seven books on topics such as, writing, relationships, customer service, brain-based learning, and creative training strategies, interpersonal communication, diversity, and supervisory skills. Additionally, he has contributed articles, chapters, and activities to eighteen compilation books. Bob retired from the U.S. Marine Corps in 1991 after twenty-two years of active and reserve service.