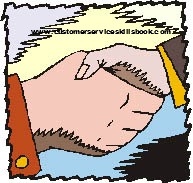 Customer loyalty is an emotional rather than a rational thing. Each time there is contact at a touch point where the customer and service provider come together there is opportunity for further cementing the customer relationship and loyalty or driving a wedge between the customer and organization due to failure to meet expectations or needs.
With every contact, service providers should strive to demonstrate commitment to exceed customer expectations and provide an experience that is beyond anything for which they might have hoped. Tied to commitment, loyalty is typically based on customer interest in maintaining a relationship with your organization or brand. Often, customer interest is created and maintained through one or more positive experiences that lead to a relationship.
An important point to keep in mind about customer loyalty is that it does not happen as a result of a single customer-provider encounter. Nor does it happen just because of periodic special promotions, sales or passive loyalty program that provide only minimal rewards. Rather, true customer loyalty stems from an organization's concerted, ongoing efforts that are part of their strategic goals to meet and exceed the expectations and needs of their customers.
For more information on customer loyalty and how to create and maintain a solid bond with your customers, get copies of Customer Service Skills for Success and Please Every Customer: Delivering Stellar Customer Service Across Cultures.