There is no excuse for poor telephone etiquette or lack of professionalism when you answer the phone as a representative of your organization. Take the time to plan your approach BEFORE a customer calls so that when you receive a call, you are prepared to positively impress your callers. Remember that you represent yourself and your organization when you pick up a ringing phone.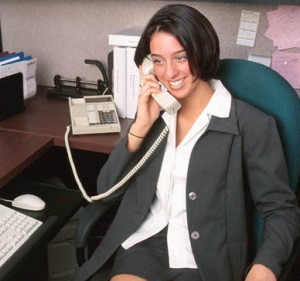 Related to receiving calls, if you have ever received an incomplete or undecipherable telephone message that someone else took from a caller, you can appreciate the need for practice in this area.
If you are answering someone's phone while he or she is away, let the caller know that fact right away. This can be done by using a statement such as, "Hello, (person's name) line. This is (your name). How may I assist you?" In addition, be cautious of statements you make regarding the intended recipient's availability. Sometimes, well-meant comments can send a negative message to customers. For example, you should not share information like "She:
"has not shown up yet this morning,"
"is not back from lunch yet."
"had to take her son to school."
"is on vacation."
"had a doctor's appointment."
Instead, simply state that the person is not available at the moment but that you can either take a message and give it to him or her or assist the person yourself (if this is an option).
Many office supply stores sell pre-printed message pads to help guide message takers. At a minimum, when you take a message you should get the following information from a caller when you answer a phone for someone else.
Name (correctly spelled—ask caller for spelling)
Company name
Phone number (with area code and country code, if appropriate)
Brief message
When call should be returned
Time and date of the call and your name (in case a question about the message arises)
Professional phone etiquette is part of everyone's job. Make it a priority to practice good phone service yourself. If you are unsure of how to deliver quality customer service, consider reading some of the excellent resources on the market that provide guidance on using telephones and other technology to better serve your customers.