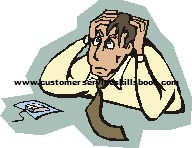 The world moves at a much faster pace than it did decades ago because of advancing technology. Changing customer values, beliefs, needs, wants and expectations have caused much of this acceleration. Added pressure to succeed and remain competitive while trying to maintain some sibilance of normalcy related to work-family life has come along with these changes. All of this potentially creates stress for customer service representatives.
Stress is a major contributor to loss of workplace efficiency. Each year, millions of dollars and countless worker-hours of productivity are lost because of stress related illnesses. In all stress-related studies, customer service is often rated among the top most stressful occupations. In fact, many studies have consistently listed customer service in the top ten most stressful occupations in the United States. This is because the variety of people and situations service professionals face on any given day requires them to call on a multitude of skills and to think quickly. The results of pressures that people are facing in the workplace have been staggering, financially and from a health standpoint.
Some of the results of stress in a service environment include:
Poor quality of service.
Lost revenue.
Loss of brand and customer loyalty.
Poor worker productivity.
Negative interpersonal exchanges with customers.
Worker tardiness or absenteeism.
High employee turnover.
Higher health costs.
Increased training costs.
What causes stress for you when dealing with your customers?