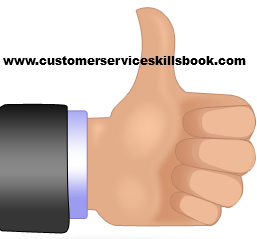 Non-verbal Communication With Customers
To be successful in the service profession, you must be aware that nonverbal communication is occurring between you and your customer(s). These unspoken messages to others make it impossible for you to not communicate. That is because no matter how you position your body and use your facial expressions or body extremities, you are constantly being evaluated by your customers. Body language, eye contact, and other nonverbal cues aid or detract from communication.
Through awareness of potential nonverbal messages that you might be sending and the fact that people interpret them based on their own backgrounds, knowledge, and experiences, you can increase your effectiveness in customer encounters or anywhere you come into contact with another person. A significant fact to remember is that, according to a classic research study by Dr. Albert Mehrabian on how feelings are transmitted between two people during communication, nonverbal signals can contradict or override verbal messages.  This is especially true when emotions are high.
For more insights on nonverbal communication in a customer service environment and how to more effectively harness the power of communicating without speaking, check out copies of Customer Service Skills for Success and Please Every Customer: Delivering Stellar Customer Service Across Cultures.
About Robert C. Lucas
Bob Lucas has been a trainer, presenter, customer service expert, and adult educator for over four decades. He has written hundreds of articles on training, writing, self-publishing, and workplace learning skills and issues. He is also an award-winning author who has written thirty-seven books on topics such as, writing, relationships, customer service, brain-based learning, and creative training strategies, interpersonal communication, diversity, and supervisory skills. Additionally, he has contributed articles, chapters, and activities to eighteen compilation books. Bob retired from the U.S. Marine Corps in 1991 after twenty-two years of active and reserve service.