Effective Verbal Communication Can Lead To Customer Satisfaction and Customer Retention
You may have heard that the expression is sometimes not what you, but how you say it that makes a difference. Nothing is truer when you are dealing with a multi-cultural, diverse customer base.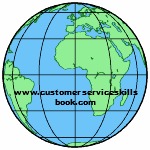 In many situations, when customer service breaks down it can often be attributed to what a customer service representative does or does not effectively say verbally or non verbally. In some cases, the lapse may be due to an unconscious message (e.g. non-verbal gesture, body movement, signal, or eye contact) that was interpreted differently than intended. In other instances, it might be an incorrect tone, word or inflection added to a message that was received incorrectly by the customer.
Whatever the reason(s) for such failures in communication, it is crucial that anyone dealing with internal and external customers is prepared for potential interactions that might go wrong. The easiest means of doing so is to enhance customer service and communication skills and to become educated related to approaches to verbal and communication practices in various cultures.
If this topic is of interest to you and you want to get ideas and strategies related to communicating effectively with diverse customers, get copies of my books Please Every Customer: Delivering Stellar Customer Service Across Cultures and Customer Service Skills for Success.
About Robert C. Lucas
Bob Lucas has been a trainer, presenter, customer service expert, and adult educator for over four decades. He has written hundreds of articles on training, writing, self-publishing, and workplace learning skills and issues. He is also an award-winning author who has written thirty-seven books on topics such as, writing, relationships, customer service, brain-based learning, and creative training strategies, interpersonal communication, diversity, and supervisory skills. Additionally, he has contributed articles, chapters, and activities to eighteen compilation books. Bob retired from the U.S. Marine Corps in 1991 after twenty-two years of active and reserve service.