Nonverbal Communication Quote – Peter F. Drucker
Various studies indicate that the majority of message meaning during an interaction between two people is often received through nonverbal means (e.g. facial expressions, gestures, and vocal qualities). Even as you speak to your customers, they are likely to be extracting additional messages from your physical presence, how you look and what you are doing. And when you throw cultural and other diversity factors (e.g. gender, abilities, or age) into the situational equation, there is a good opportunity for misinterpretation. This is because people often assign meaning to nonverbal cues based on their values, beliefs, and life experiences.
For all the reasons listed above, it is crucial that you and other employees become students of human behavior. You should also educate yourselves about values and beliefs from different groups so that you are aware of potential interpretations that might be made of gestures that you or your customer(s) might use.
A quote by management guru, Peter F. Drucker sums up the importance of recognizing and properly interpreting nonverbal cues.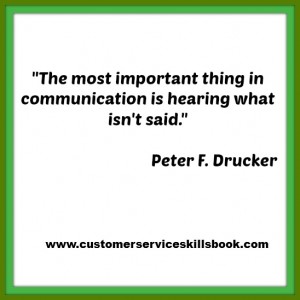 For ideas and strategies on effectively communicating nonverbally with your customers, check out: Please Every Customer: Delivering Stellar Customer Service Across Cultures; Customer Service Skills for Success; and How to Be a Great Call Center Representative.
Here are a few more amazing Peter Drucker quotes to enjoy reading.
"Management by objective works – if you know the objectives. Ninety percent of the time you don't." – Peter Drucker
"Time is the scarcest resource and unless it is managed nothing else can be managed."
"Accept the fact that we have to treat almost anybody as a volunteer." – Peter Drucker
"Doing the right thing is more important than doing the thing right."
"If you want something new, you have to stop doing something old."
"What gets measured gets improved." – Peter Drucker
"Results are gained by exploiting opportunities, not by solving problems." – Peter Drucker
"Long-range planning does not deal with the future decisions, but with the future of present decisions."
"Meetings are a symptom of bad organization. The fewer meetings the better." – Peter Drucker
"Leadership is not magnetic personality–that can just as well be a glib tongue. It is not making friends and influencing people –that is flattery. Leadership is lifting a person's vision to higher sights, the raising of a person's performance to a higher standard, the building of a personality beyond its normal limitations."
"The better a man is the more mistakes he will make for the more things he will try."
"One cannot buy, rent or hire more time. The supply of time is totally inelastic. No matter how high the demand, the supply will not go up. There is no price for it. Time is totally perishable and cannot be stored. Yesterday's time is gone forever, and will never come back. Time is always in short supply. There is no substitute for time. Everything requires time. All work takes place in, and uses up time. Yet most people take for granted this unique, irreplaceable and necessary resource."
"Time is the scarcest resource of the manager; If it is not managed, nothing else can be managed."
"What you have to do and the way you have to do it is incredibly simple. Whether you are willing to do it, that's another matter." – Peter Drucker
"The three most charismatic leaders in this century inflicted more suffering on the human race than almost any trio in history: Hitler, Stalin, and Mao. What matters is not the leader's charisma. What matters is the leader's mission."
"No one learns as much about a subject as one who is forced to teach it."
"Whenever you see a successful business, someone once made a courageous decision."
"The leaders who work most effectively, it seems to me, never say "I." And that's not because they have trained themselves not to say "I." They don't think "I." They think "we"; they think "team." They understand their job to be to make the team function. They accept responsibility and don't sidestep it, but "we" gets the credit. This is what creates trust, what enables you to get the task done." – Peter Drucker
"Business has only two functions — marketing and innovation."
About Robert C. Lucas – Blogger, Author, and a fan of Peter Drucker
Bob Lucas has been a trainer, presenter, customer service expert, and adult educator for over four decades. He has written hundreds of articles on training, writing, self-publishing, and workplace learning skills and issues. He is also an award-winning author who has written thirty-seven books on topics such as, writing, relationships, customer service, brain-based learning, and creative training strategies, interpersonal communication, diversity, and supervisory skills. Additionally, he has contributed articles, chapters, and activities to eighteen compilation books. Bob retired from the U.S. Marine Corps in 1991 after twenty-two years of active and reserve service.
Make Money Writing Books: Proven Profit Making Strategies for Authors by Robert W. Lucas at Amazon.com.
The key to successfully making money as an author and/or self-publisher is to brand yourself and your company and to make yourself and your book(s) a household name. Part of this is face-to-face interaction with people at trade shows, library events, book readings, book store signings, blogging or guest blogging on a topic related to their book(s). Another strategy involves writing articles and other materials that show up online and are found when people search for a given topic related to a topic about which the author has written.
If you need help building an author platform, branding yourself and your book(s) or generating recognition for what you do, Make Money Writing Books will help. Bob's popular book addresses a multitude of ideas and strategies that you can use to help sell more books and create residual and passive income streams. The tips outlined in the book are focused to help authors but apply to virtually any professional trying to increase personal and product recognition and visibility.