Customer Service Skills for Success – Tips for Delivering Excellent Customer Service
In one of my books, Customer Service: Skills for Success, I feature how-to strategies on topics for customer service representatives that can assist in moving from good customer service to excellent customer service delivery. By applying strategies found in the text, customer service professionals can enhance their knowledge and skills and make them more successful in delivering service to all types of customers.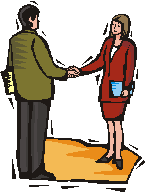 In the chapters of Customer Service: Skills for Success I cover the concepts and skills needed for success in the service profession. Strategies provided to readers include listening techniques, verbal and nonverbal communication, using technology to deliver service, addressing the needs of internal and external customers in any business environment, how to build customer loyalty and what to do when service breaks down and they need to recover. I also share experience and tips on how to use positive global service strategies for dealing with diverse customers.
Here are three tips for ensuring better service delivery to your customers:
If you seek trust; communicate it through your words and nonverbal cues.
If your supervisor empowers you to make decisions, that means he/she trusts your ability to handle various issues. Do not take this trust lightly. Before taking action, stop, weigh alternatives, and then resolve the situation to the best of your ability in order to send a message of competency and professionalism.
Unhappy people are still either customers or potential internal or external customers when they contact you at work. Your goal should be to try to serve them effectively them so that they return for future products or services. If you fail at this goal, you and your organization or department will potentially suffer financial and prestige loss.
I am always interested in hearing what is working and what is not in organizations related to customer service. If you have ideas, suggestions, tips or cutting edge practices in the professional that you would like to share with others, please comment.
For ideas and information on how to improve your own customer service skills, get a copy of Customer Service Skills for Success by Robert W. Lucas.
About Robert W. Lucas
Bob Lucas has been a trainer, presenter, customer service expert, and adult educator for over four decades. He has written hundreds of articles on training, writing, self-publishing, and workplace learning skills and issues. He is also an award-winning author who has written thirty-seven books on topics such as, writing, relationships, customer service, brain-based learning, and creative training strategies, interpersonal communication, diversity, and supervisory skills. Additionally, he has contributed articles, chapters, and activities to eighteen compilation books. Bob retired from the U.S. Marine Corps in 1991 after twenty-two years of active and reserve service.