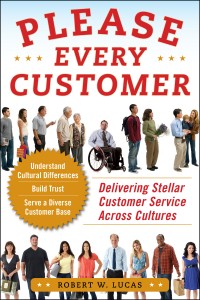 Use Caution with Nonverbal Cues When Serving International Customers
"I am so sorry! That's not what I meant" is all the service provider could say after he inadvertently offended an international customer from Turkey by using what he believed to be a signal of reassurance (thumb and index finger forming an "O").  In fact, due to a differing cultural meaning assignment for nonverbal cues, he had just sent his customer a vulgar message.
Like many other elements of interpersonal communication, there is a likelihood that messages can break down for a number of reasons. This is especially true with nonverbal cues or body language since people from various regions of the country and the world assign varying meanings to similar gestures.
There are numerous good books on the topic of nonverbal communication across cultures.  If you are going to work as a customer service professional, you should have them all on your bookshelf. In fact, if you are going to work in today's multicultural workplace, you should get them since you will be dealing with internal as well as external customers.
For guidance on providing to service to customers from other cultures, as well as those with varying degrees of ability, differing ages, and other diverse factors, get a copy of the book Please Every Customer: Delivering Stellar Customer Service Across Cultures.