Process Improvement Quote – Bill Gates
Organizations that remain vigilant by continually seeking process improvement and looking for ways to enhance the service experience for their customers are the ones that survive in a turbulent time. By investing time, effort and money into employee training and development of new ways to stay competitive, these organizations help increase the likelihood of increased customer satisfaction and brand loyalty.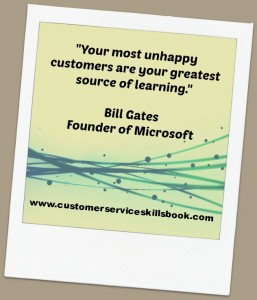 "Your most unhappy customers are your greatest source of learning." – Bill Gates, Founder of Microsoft
For ideas on ways to create a customer-centric organization leading to enhanced customer satisfaction and loyalty, get a copy of Customer Service Skills for Success.
Learn about Bill Gates now…
William Henry 'Bill' Gates III was born on October 28, 1955. He is an American business magnate, software developer, investor, and philanthropist. He is best known as the co-founder of Microsoft Corporation and he retired from the board of directors in 2020. During his career at Microsoft, Gates held the positions of chairman, chief executive officer (CEO), president and chief software architect, while also being the largest individual shareholder until May 2014. He is one of the best-known entrepreneurs and pioneers of the microcomputer revolution of the 1970s and 1980s.
Born and raised in Seattle, Washington, Gates co-founded Microsoft with childhood friend Paul Allen in 1975 in Albuquerque, New Mexico; it went on to become the world's largest personal computer software company. Gates led the company as chairman and CEO until stepping down as CEO in January 2000, but he remained chairman and became chief software architect.
In June 2006, Gates announced that he would be transitioning to a part-time role at Microsoft and full-time work at the Bill & Melinda Gates Foundation, the private charitable foundation that he and his wife, Melinda Gates, established in 2000. He stepped down as chairman of Microsoft in February 2014 and assumed a new post as a technology adviser to support the newly appointed CEO Satya Nadella.
Later in his career and since leaving day-to-day operations at Microsoft in 2008, Gates pursued a number of philanthropic endeavors. He donated large amounts of money to various charitable organizations and scientific research programs through the Bill & Melinda Gates Foundation, reported to be the world's largest private charity.
Here are a few more famous quotes from Bill Gates…. enjoy!
Success is a lousy teacher. It seduces smart people into thinking they can't lose.
Your most unhappy customers are your greatest source of learning.
It's fine to celebrate success but it is more important to heed the lessons of failure.
Life is not fair; get used to it.
As we look ahead into the next century, leaders will be those who empower others.
If you can't make it good, at least make it look good.
Often you have to rely on intuition.
Intellectual property has the shelf life of a banana.
Find out more about Robert C. Lucas, Your Customer Service Skills Expert and a Major Fan of Bill Gates…
Bob Lucas has been a trainer, presenter, customer service expert, and adult educator for over four decades. He has written hundreds of articles on training, writing, self-publishing, and workplace learning skills and issues. He is also an award-winning author who has written thirty-seven books on topics such as, writing, relationships, customer service, brain-based learning, and creative training strategies, interpersonal communication, diversity, and supervisory skills. Additionally, he has contributed articles, chapters, and activities to eighteen compilation books. Bob retired from the U.S. Marine Corps in 1991 after twenty-two years of active and reserve service.
Make Money Writing Books: Proven Profit Making Strategies for Authors by Robert W. Lucas at Amazon.com.
The key to successfully making money as an author and/or self-publisher is to brand yourself and your company and to make yourself and your book(s) a household name. Part of this is face-to-face interaction with people at trade shows, library events, book readings, book store signings, blogging or guest blogging on a topic related to their book(s). Another strategy involves writing articles and other materials that show up online and are found when people search for a given topic related to a topic about which the author has written.
If you need help building an author platform, branding yourself and your book(s) or generating recognition for what you do, Make Money Writing Books will help. Bob's popular book addresses a multitude of ideas and strategies that you can use to help sell more books and create residual and passive income streams. The tips outlined in the book are focused to help authors but apply to virtually any professional trying to increase personal and product recognition and visibility.
In my book Customer Service Skills for Success, I define customer service as "the ability of knowledgeable, capable, and enthusiastic employees to deliver products and services to their internal and external customers in a manner that satisfies identified and unidentified needs and ultimately results in positive word-of-mouth publicity and return business."