Technology Is Rapidly Changing the Face of Customer Service
Customer service is changing rapidly as technology encroaches on the traditional world of retail marketing and sales.  Customer and brand loyalty are quickly becoming a thing of the past as many customers search for the finest quality at the cheapest price through technology.  As all this occurs, new knowledge and skills related to the capabilities and operation of various forms of computer, Internet, cloud and mobile technology are being required of customer service representatives and others in their organizations.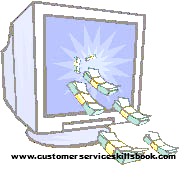 To give an insight into this phenomenon, think about the fact that virtually every aspect of our lives is now impacted by some form of technology. People around the world are now part of a 24/7/365 society, meaning that many have to technology 24 hours a day, 7 days a week, 365 days a year, and can communicate at any time and in virtually from any place.
Ecommerce now dominates the retail industry. According to the website Internet World Stats, there are over 7 billion people worldwide in 233 countries and regions in 2012. Of that number almost two and one-half billion now use the Internet.  Further, the International Telecommunication Union reported that in February 2013 there were 6.8 billion mobile phone subscribers around the globe (over 96% of the worldwide population).  Mobithinking (www.mobithinking.com) reports that at the end of 2012, there were over 321 million mobile subscribers in the United States alone.
Through all this technology, consumers spend billions of dollars each year. For example, eMarketer reported in January 2013 that consumers spent nearly 25 billion dollars on orders placed through mobile technology (e.g. phones and tablets) alone. This does not include travel services and tickets purchased.  Technology sales are catching up with retail sales.
According to Adobe Digital Marketing Blog, the digital sales on Black Friday in 2012 reached approximately 1.3 billion dollars.  Some sources estimate that $1 in every $4 dollars spent on merchandise is now through technology. These numbers do not take into consideration the sales of online retailers from other countries.
To find out about products and services, many people turn to the Internet to do their research. In many cases, they are now using bookstores and other retail sources to browse potential products, and then order via technology. And why wouldn't they when giants like Amazon and Wal-Mart are deeply discounting and in many instances offering free shipping.
Entire industries are changing as a result of this worldwide trend. An example is the publishing industry, which has virtually reinvented itself to stay competitive and meet the rapidly changing needs, wants and expectations of a global customer base. One of the biggest factors causing this change is the evolution of eBooks and electronic readers. Book prices are spiraling downwards as more people read on a technology-based device. Amazon now sells more eBooks than they do print versions.
As a service provider, if you are not staying abreast of these changes, gearing up with training and education to develop and maintain knowledge and skills, you may soon find yourself outsourced.
About Robert C. Lucas
Bob Lucas has been a trainer, presenter, customer service expert, and adult educator for over four decades. He has written hundreds of articles on training, writing, self-publishing, and workplace learning skills and issues. He is also an award-winning author who has written thirty-seven books on topics such as, writing, relationships, customer service, brain-based learning, and creative training strategies, interpersonal communication, diversity, and supervisory skills. Additionally, he has contributed articles, chapters, and activities to eighteen compilation books. Bob retired from the U.S. Marine Corps in 1991 after twenty-two years of active and reserve service.
Make Money Writing Books: Proven Profit Making Strategies for Authors by Robert W. Lucas at Amazon.com.
The key to successfully making money as an author and/or self-publisher is to brand yourself and your company and to make yourself and your book(s) a household name. Part of this is face-to-face interaction with people at trade shows, library events, book readings, book store signings, blogging or guest blogging on a topic related to their book(s). Another strategy involves writing articles and other materials that show up online and are found when people search for a given topic related to a topic about which the author has written.
If you need help building an author platform, branding yourself and your book(s) or generating recognition for what you do, Make Money Writing Books will help. Bob's popular book addresses a multitude of ideas and strategies that you can use to help sell more books and create residual and passive income streams. The tips outlined in the book are focused to help authors but apply to virtually any professional trying to increase personal and product recognition and visibility.