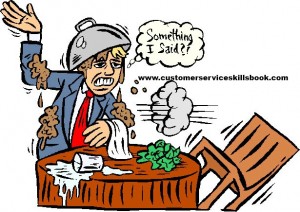 Numerous research studies have been conducted to try to determine the cost of a dissatisfied customer who defects. Too often, service providers look at the loss of a sale as a single event when a customer is dissatisfied. However, one dissatisfied customer can cost your organization a lot if they defect to a competitor and share their negative experience with friends and relatives.
To get an idea of what one negative customer experience can cost your organization over a 10-year period, consider the following example:
Ms. Ling comes in to return a product that she paid $22 for over a month ago. She explains that the product did not fit her needs and that she had been meaning to return it since the date she purchased it, but kept forgetting. She also explains that she comes in at least once a week to make purchases. Your company has a three-day return policy, your manager is out to lunch and you do not have the authority to override the policy. Ms. Ling is in a hurry and is upset by your inability to resolve the issue. She leaves after saying, "You just lost a good customer!"
Let's assume that Ms. Ling spends at least $22 a week in your store and calculate the potential loss to your organization.
$22 x 52 (number of weeks in a year) = $1,144
10 (number of years as a customer) x $1,144 = $11,440
16 (number of people statistically told of her negative experience) x $11,440 = $183,040
These numbers are the bad news. The good news is that you and every other employee in your organization can reduce a large percentage of customer defections by providing the best possible quality service.  If you and everyone in your organization focus on strengthening customer relationships, reducing customer defections and building brand and customer loyalty through the use of sound customer service skills, both your customers and your organization benefit.