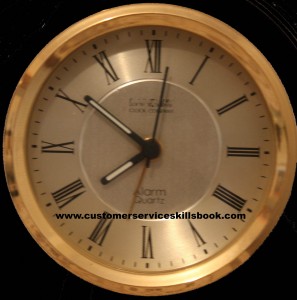 Impact of Time on Customer Service
The concept and value of time differ between individuals. Your personal perception of time may differ from that of others. For example, if you are looking forward to a vacation or other special event time often seems to drag on. If you are in a hurry or are late for an event, it often seems to fly by putting even more pressure or stress on you. Others may not have the same reaction to events.
Some individuals grew up in a household or cultural environment where one or both of their parents or other caregivers had a lackadaisical attitude toward time and were often late. If this was the case in your home environment, the chances are that you may not be as punctual as someone who learned early on that being on time for meeting commitments was an important personal value. Depending on the situation and other people involved, this may or may not be an issue.
In some cultures being late by as much as an hour is acceptable. The higher a person's status, the longer you might have to wait for them. In the United States and other monochronic societies, five to ten minutes is an acceptable wait time if someone is late, unless they are high ranking in an organization, government or military. The logic in such cases is that because of the demands on their time and the level of decisions in which they are typically involved, senior-level people are more likely to be detained or called into unscheduled meetings or telephone calls which might cause tardiness. Keep this in mind when you are providing service to different customers. Sometimes, patience is rewarded with a big order or contract.
As a customer service representative or someone who deals with internal customers, it is good to remind yourself that everyone is not like you. That does not mean they are wrong or bad; just different. Personal and cultural values differ. To succeed in business and to be able to deliver the best customer service possible, you should strive to educate yourself on diversity and the values and beliefs of people from around the world. This broadened global perspective will serve you well when interacting with customers and others in your life.
Extracted from: Please Every Customer: Delivering Stellar Customer Service Across Cultures.